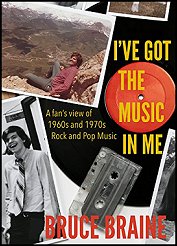 1960s and 1970s rock and pop music is reviewed and discussed year by year (1963-1976) in parallel with the author's life growing up in New York City and thru his college years at Brown University.
Each chapter (year) in Section 1 of the book includes a list of the ten most popular songs and the author's ten favorite songs. Also, peak chart position and month is included for all the singles mentioned in these chapters. For many songs, there are also selected song lyrics to help the reader's recognition of the songs. In a few chapters, there are much more extensive song lyrics - e.g. the "depressing" songs of 1976.
Section 2 of the book contains Bruce Braine's favorite or "best of" lists and commentary. This includes several song, album or artist lists such as favorite rain songs, favorite b-sides, favorite summer songs, favorite rock instrumentals, favorite comedy songs, favorite rock albums, favorite family groups, favorite numeric/alphanumeric songs,favorite long songs, favorite album sides, favorite rock concerts etc. The books' references and bibliography are extensive. It includes primary sources such as many of the major autobiographies/biographies of artists such as Eric Clapton, Neil Young, Bruce Springsteen, Paul McCartney, Pete Townshend, Keith Richards and John Fogerty among others.
It also includes secondary sources such as Billboard, Rolling Stone, Joel Whitburn and even Lou Simon, the highly knowledgeable host of the 60s Satellite Survey on Sirius XM radio.
I've Got the Music In Me: A Fan's View of 1960s and 1970s Rock and Pop Music is available on Amazon.com.
Read reviews of I've Got the Music In Me: A Fan's View of 1960s and 1970s Rock and Pop Music